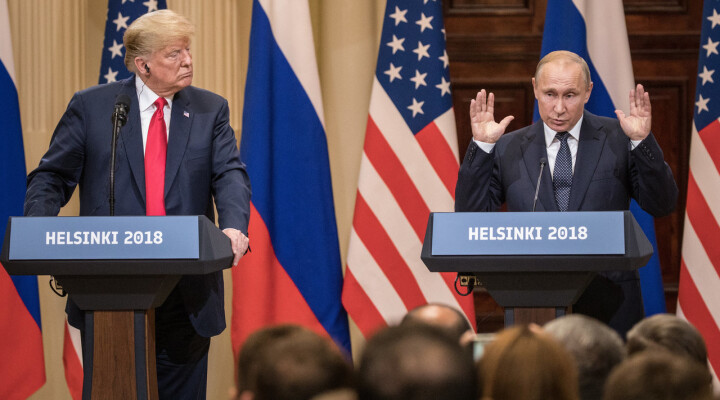 As many analysts will be trying now to decipher the real outcome of the summit (please see video at https://www.youtube.com/watch?v=2-Xw0_2eMJg and transcript at https://www.npr.org/2018/07/16/629462401/transcript-president-trump-and-russian-president-putins-joint-press-conference?t=1531774783621), let's note that there have been some interesting and visible "movements" on contentious Ukraine gas transit issue.
First and most obvious conclusion – there will be probably no further US sanctions against Nord Stream-2 pipeline and Germany. Trump may have taken a more conciliatory position. However, this should not be taken for granted.
1. Trump position on NS-2 and on the project's main EU supporter (Germany) seems to have significantly softened. Instead of threatening with further project-related financial sanctions to derail the project, he is now talking about better understanding of Germany's (and Russia's) support for the project (implying perhaps energy supply security considerations).
2. Trump also mentions that the US is going to compete more aggressively on the European markets with its LNG, which is no news at all. At least to Russian Gazprom that has a better competitive position.
3. It is interesting that Putin voices out, for the first time, the idea of cooperation with the US on regulating the international (energy) markets in order to prevent "the plummeting of the prices", which could lead one to conclude that Putin may have put forward the idea of some sort of cartel arrangement to keep both energy producing superpowers happy.
4. Putin re-iterates his earlier statement that Russian Gazprom is ready to maintain transit through Ukraine by extending the contract BUT here he introduces a new and somewhat intriguing condition: "if the dispute between Naftogaz and Gazprom is settled in Stockholm Arbitration Court".
5. NOW, what does he mean by that?
6. It is known that there were two final rulings made by the Stockholm Arbitration Court: one in favour of Gazprom and the other in favour of Naftogaz. Netting the financial implications of both rulings leaves Gazprom with a $ 2.56 billion debt to Naftogaz, which still remains unpaid.
7. It is also known that Gazprom energetically disagrees with the Stockholm ruling and is trying to reverse it through the appeal. The monopolist is in parallel seeking to cancel the existing gas supply and transit contract with Ukraine through that same Stockholm arbitration process.
8. It is also known that Ukraine, in order to force the payment of debt, has been actively seeking to enforce the Stockholm decision by rigorous attempts to freeze Gazprom foreign assets.
9. It is difficult to assume that Gazprom's appeal and its move to cancel the contract could bring specific Stockholm decisions before existing contract expires on 31.12.2019. Similarly, Ukraine's action to enforce repayment of Gazprom debt could be stuck in courts and legal proceeding for months.
10. SO, THERE IS VERY LITTLE PROBABILITY THAT BOTH SIDES CAN SETTLE THE DISPUTE IN STOCKHOLM ARBITRATION COURT IN TIME FOR THE NEW CONTRACT TO BE EXTENDED.
11. It is also known that Ukraine is trying to win the appeal against the London court ruling on repayment of Ukraine's $ 3.0 billion debt to Russia.
12. NOW, DID PUTIN MEAN:
a) there will be NO transit through Ukraine because legal issues may not have been resolved in time and it would be, in his view, Ukraine to blame for initiating them?
b) Russia may offer to swap the gas debt for sovereign debt thus clearing the way for a new transit contract provided Ukraine also does something good. For instance, by moving ahead with implementation of Minsk agreements. Something that, for the time being, seems rather unrealistic in view of forthcoming presidential and parliamentary elections in 2019.
c) there may be some last-minute "goodwill gesture" offer from Russia on a reduced volume of transit as a sign of "respect" for Trump and Merkel, both of whom supported the Ukraine post-2019 transit. This gas transit deal may have to be negotiated by the two sides, with possible assistance from Germany, EC and perhaps the US. Something that sounds now also too good to be true, especially in view of Naftogaz's uncompromising position "all or nothing".
What do you think President Putin had in mind?
Yuri Poluneev